Randazzo's Seafood was founded 80 years ago by our grandfather, Frank, after he immigrated to New York from Sicily. Our grandfather was a fisherman by trade. He knew the many various fishes of the Mediterranean and had a vision that when he settled in America he would never forget his roots. He would bring the fishes of Sicily to America for all his fellow Sicilians and new American neighbors to indulge in. And that he did! Back in the early twenties he setup shop on Arthur Avenue, a bustling community filled with Italians. And like many other merchants at that time, Frank and Mary resided in an apartment above one of the shops there. Our father, Mike, followed in our grandfather's footsteps and went into the business at age eighteen until his death in 2002. He taught us in the same manner as our grandfather.
In the 1990 Mike, our father, Joe and Frank moved the business across the street to 2327 Arthur Avenue to a modernized, much needed larger store. We have been there since fulfilling our grandfather's vision of providing not only Italian but world-wide varieties of seafood of the finest quality to you the public.
We are now the third generation of Randazzo's running our grandfather's legacy. During the holidays you will also see our children helping our, the fourth generation of the Randazzo family.
The Belmont community was home for our grandparents and many other Italian Americans. Today, we still provide the same type of old world excellence that you have come to rely on when shopping with us. Many things change over time, but our commitment to you in providing outstanding products at an outstanding value will always be the same. We have great respect in the products we sell and to the customers we sell them to.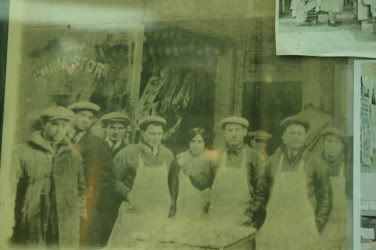 Randazzo's Seafood Early 1900's